Enfola, town
of the municipality Portoferraio
Enfola Tourist information
Enfola is a seaside resort within the municipality of Portoferraio, located on the northern coast of Elba. Accessible by car from Portoferraio following the road signs along the main road to Enfola - Viticcio for about 6 km.
Enfola looks like a pretty peninsula comprising a promontory attached to the mainland by a small strip of land, where two beaches have arisen over the times:one on the northern side about 50 metres long and one on the southern side long over 200 meters.
A convenient parking is located immediately behind the beach, where you can admire the coast of the island that goes up to Sant'Andrea.
If you go for a hike on the promontory of Enfola, you can discover many underground shelters, bunkers and lookout stations built by the Military Navy during World War II.

Besides hosting pretty Apartments for rent and Hotels, where you can spend a nice relaxing holiday, immersed in the wild Mediterranean maquis, it has been for years one of the main site for tuna fishing in Elba.
---
Curiosity: there were many tuna fishing nets in Elba Island besides the tonnara of Enfola, there were in fact also in Marciana Marina, Bagnaia, Linguella and Bagno. Thanks to the tuna fishing activities, which have ended today in Elba, great quantity of Mediterranean Tuna, yellow fin Tuna and red Tuna, which was then salted and prepared for delicious recipes such as bottarga (fish eggs) and sorra which were then exported abroad.
While the entrails were used by the fishermen from Elba to prepare the buzzamaglia, a stew made of tuna and green peas.
On June 25 in 1958 a very strong storm caused extensive damages to the nets marking the end of tuna fishing on Elba Island. The day before the storm , the last fishing was recorded and carried out in Enfola , where the catch was equal to twenty-two tons of highly valued tuna.
Today the buildings that once housed the famous tuna fishing nets have become the seat of the Tuscan Archipelago National Park.
Beaches close to Enfola
There are two beaches in the location of Enfola: the one on the southern side is about 200 metres long, composed by gravels and has a small dock and multi buoy mooring managed by the Amici dell'Enfola Club. There are also bathing facilities where it is possible to rent paddleboats and medium-small boats.
Less attractive for its morphology is surely the northern side, which is basically used as boat storage by local fishermen. Other lovely beaches to visit along this stretch of coast are Viticcio, Sansone, Acquaviva, Capobianco, Padulella and Le Ghiaie beaches.
Elbaworld suggests
Discover places and attractions nearby.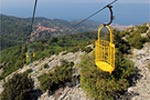 Discover incredibly beautiful excursions on Elba Island.