Sottobomba beach
Sottobomba beach Tourist information
Pebbly beach within the Municipality of Portoferraio
Features of Sottobomba beach:
Length: 190 meters - Average width: 7 m
Exposed to: winds from North to Northeast
Sheltered to: winds from the Southern quadrant
GD: 42.81899 - 10.307043
GMS Latitude: 42 ° 49'8.364''N - Longitude: 10 ° 18'25.354''E

---
Description of Sottobomba Beach
The beach of Sottobomba is formed by a long and narrow strip composed of white gravels and pebbles. The shore is pristine and wild-looking, very beautiful and with similar characteristics to the nearby beaches of Sansone, Sorgente and Capobianco, but it is completely devoid of services. The waters of Sottobomba have a unique color tone, especially during the days of sirocco, which makes this coastline very nice and suitable for snorkeling.
Access to Sottobomba Beach
To reach the beach from Portoferraio you have to take the road that leads to Enfola. By the sign for Capobianco turn right and follow for about 500 meters, where a sign on the right indicates the beach. Park there and take a narrow path through the vegetation that ends with a hundred steps up to the wonderful beach of Sottobomba.
Amenities available on this beach
| | | | | | |
| --- | --- | --- | --- | --- | --- |
| | Apartments nearby | | Free beach | | Hotels nearby |
| | Limited Parking | | Pebble beach | | Residence near |
| | Snorkeling | | Visited medium | | |
Elbaworld suggests
Discover places and attractions nearby.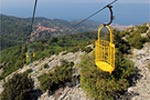 Discover incredibly beautiful excursions on Elba Island.