Custom-made holiday
When you decide to spend your holiday at Elba Island, you should know there are many possibilities to enjoy your trip. The Island is definitely the favourite destination for seaside tourism, starting in June, ending in September and reaching its peak in the months of July and August. However it's often possible to swim in April and May already, when the weather allows it, and October is also a month where swimming is possible. The Island of Elba is not just for a sea holiday and beaches lovers can discover the island from many perspectives and try several touristic attractions for a different kind of holiday.
Elba Island actually gives you the chance to customize your holiday as it's possible to organize your staying according to your needs . An Island to discover all year round, perfect for romantic moments and honey-moon, for the outdoor sport and nature lovers, for customers who love a life in touch with nature and they want to regenerate themselves by discovering tastes and smells of a simple and pure land.
The Island of Elba is a heavenly place and the first time you visit it, you can't help but falling in love with it. An island staying in the heart of those who visit it, made of a varied territory that offers both seaside and mountain areas, all concentrated in a few squared kilometers
Select all
Agencies a Procchio
Corso di Procchio,3 - 57030 Marciana
Agencies a Marina di Campo
Via Puccini, 3 - Marina di Campo - 57034 Campo nell'Elba
Hotels
a Pomonte
Loc. Pomonte - 57030 Marciana
Online availability request
Elbaworld suggests
Discover places and attractions nearby.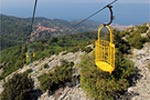 Discover incredibly beautiful excursions on Elba Island.