Lo Schioppo, town
of the municipality Marciana Marina
Lo Schioppo Tourist information
Lo Schioppo known as Punta Schioppo or caletta dello Schioppo is a small residential fraction located along the stretch of coast that goes from Procchio to Marciana Marina, from which it is 2 km away.
The stretch of coast is almost all uncontaminated and absorbed by the mediterranean vegetation, so as the small beach Caletta di Punta Schioppo, characterized by a mixture of white, gray and dark gravels. The small beach is enclosed within a small gulf of black cliffs.
Very beautiful is also the seabed which is ideal for those who love snorkeling and diving. Not to forget the colors of the sea with all their shades and transparencies, particularly in this stretch of the coast.
To get to the sea and to the lovely beach you have to go through a private pine forest nearby some tourist structures. There you will find signs indicating not to park, and from the granite steps taking you to the rocks.
Beaches close to Lo Schioppo
The small beach de Lo Schioppo is almost private and difficult to reach, but for those who stay in this location it will be very easy to get to other nearby beaches, such as Il Bagno, Le Sprizze, Redinoce and La Paolina beaches.
On the side of the coast that looks at Marciana Marina there are Crocetta and Fenicia beaches.
Elbaworld suggests
Discover places and attractions nearby.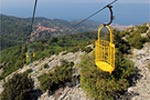 Discover incredibly beautiful excursions on Elba Island.