What's Elbaworld
Elbaworld is a tourism portal - an advertising agency - a graphic studio
Elbaworld is offering a promotional communication service of 360°, the Elbaworld Group offers three specialized sectors for the development and promotion of your presence: advertising agency, graphic studio and Travel Portal.
Established in 2004 by Alessandro Mancini at the time focusing on business and management of tourist services at the University of Florence, now it attracts many customers both nationally and internationally.
The team consists of professionals who are able to satisfy customer needs. The Elbaworld team interprets the customer provides creative solutions and to meet the requirements. Furthermore, we study and observe the advertising market for the latest advertising techniques in order to offer our customers the best solution for the product. With our large network with consideration to the needs of customers, we find the ideal "marketing mix".
Our company, dynamic and young, is responsible for communications design, its implementation and the various advertising channels both territorial and as well as online. We take care of our customers from planning and development to its presentation on the market and support him throughout the project. Thus, we are a reliable reference point.
The guests enjoy the advantage of working with a caregiver. We are representatives of many important leaders in the advertising industry on the various European markets. This allows us to reduce costs and a high quality service that distinguishes us.
The tourism portal Elbaworld.com, is the first major project with which the company launched in 2004 online, to promote with the aim in the online world the Elba Island and its tourist facilities. Over the years it has angepastt on the trends and needs of the market and undergone various transformations and restyling. In 2008 it was completely designed and developed new. In March 2016 returns with the new portal of the latest generation, tailored to the needs of its customers to the market innovation. Particular attention has been paid to the social networks. In addition, an extensive network has been set up in an own website, which has grown to more than 100 and has been optimized for different keywords.
Elbaworld suggests
Discover places and attractions nearby.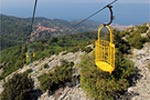 Discover incredibly beautiful excursions on Elba Island.