Holiday for disabled people
A disabled person has always problems when he/she goes on holiday, because often the facilities and the holiday resort does not have the adequate equipment and an holiday can become a nightmare. This page offers a number of holiday facilities equipped for disabled tourists. It takes into account the holiday facility, the access to the sea, the near presence of beach resorts equipped for wheelchair users. Shown below are a series of beaches for disabled people suitable for tourists with walking difficulties.
Select all
Hotels
a Marina di Campo
Via per Portoferraio, 208 - 57034 Campo nell'Elba
Hotels
a Marina di Campo
Viale degli Etruschi, 567 - 57034 Campo nell'Elba
Residences
a Porto Azzurro
Loc. Santissimo - 57036 Porto Azzurro
Online availability request
Elbaworld suggests
Discover places and attractions nearby.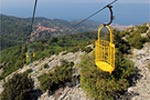 Discover incredibly beautiful excursions on Elba Island.