Viticcio beach
Viticcio beach Tourist information
Gravelly and pebbly beach within the Municipality of Portoferraio
Features of Viticcio beach:
Length: 140 meters - Average width: 5 m
Exposed to: North
Sheltered to: Southern winds
GD: 42.81846 - 10.275296
GMS Latitude: 42 ° 49'6.456''N - Longitude: 10 ° 16'31.065''E

---
Description of Viticcio Beach
The beach of Viticcio is located on Costa Verde of Elba. The name of this stretch of coast is due mainly to the dominant colors of the Mediterranean greenery bordering the blue and green of the sea. The beach of Viticcio is about 140 meters long and it is characterized by smooth gravels mixed with pebbles and stones from various shades of gray.
Free of any service and still wild, it is appreciated by those in search for peace and quiet. Along the coast, there is also access to a part of reef suitable for sunbathing.
Access to the beach of Viticcio
The beach of Viticcio overlooks the homonymous bay, which includes other small coves and beaches. From Portoferraio you can access Viticcio by bus or car, following the signs to Enfola and Viticcio, which is about 6 km out of town.
Once in the center of Viticcio's resort, you can reach the main beach through a path with steps that crosses the few houses. In total, Viticcio offers 5 beaches where the other four are considered small coves ideal for those a bit of privacy.
Amenities available on this beach
| | | | | | |
| --- | --- | --- | --- | --- | --- |
| | Apartments nearby | | Connected to Bus | | Hotels nearby |
| | Parking | | Pebble beach | | Restaurants |
| | Rocks | | Snacks | | Snorkeling |
| | Unfrequented | | | | |
Elbaworld suggests
Discover places and attractions nearby.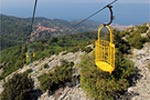 Discover incredibly beautiful excursions on Elba Island.