Romantic holiday
With no doubt Elba is a romantic tourist place, in fact many couples choose it to spend here their honey moon. Thanks to its romantic coves, its magic villages and its spring smells, Elba left the mark in the heart of lovers who spend the holiday here. Last year many couples decided to choose Elba also as a place to celebreate their wedding, in fact there are many beautiful spots where to marry in the Island. Future spouses come from every part of Europe, mainly from Switzerland, Germany, England and Netherlands. For further details about wedding at Elba, elbawedding will give you every information to plan the perfect wedding.
Online availability request
Elbaworld suggests
Discover places and attractions nearby.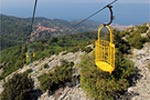 Discover incredibly beautiful excursions on Elba Island.