Info point
During your holidays in Elba Island, you will have the chance to inquire some of the various information and tourist accommodation offices in Elba Island.
Info Point Marina di Campo
In the town of Marina di Campo, the information service is carried out in the morning at the office of the Marina di Campo Pro Loco in Via G. Pietri 55 adjacent to the square where the market is held each Wednesday morning. While in the evening you can ask informations at the gazebo located at the beginning of Via Roma. For those arriving by sea, there is another small office for tourist information located at the port near the dam.
Info Point in Portoferraio
The information office is located right at the harbor; you can also ask information at the tourist information office of the Tuscan Archipelago National Park located at the beginning of Viale Elba, just outside the port, by the Bus line parking .
Info Point in Capoliveri
The tourist information office is located outside the town in Viale Australia 1 on the first floor of the new town hall. Open in the morning from 10:30 to 12:30 a.m.
Info Point in Marciana Marina
Along the waterfront of Marciana Marina there are two information offices, one at the beginning of Viale Regina Margherita and one at the end in the port area.
Info Point in Porto Azzurro
The Pro Loco office of Porto Azzurro provides information and tourist reception for its municipality and it is located in Via Cerboni 3.
Info Point in Rio Marina
In front of the Terrace of Spiazzi, near the public gardens of Rio Marina there is the Pro Loco office of Rio Marina which is open to the public to offer tourist information of the territory.
Info Point in Procchio
In the "Salotto" of Procchio, an area which is completely pedestrian and closed to traffic, there is a little info point active mainly in the morning and in the evening during summer.
Useful and emergency numbers on the island of Elba
Elbaworld suggests
Discover places and attractions nearby.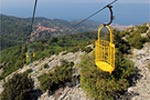 Discover incredibly beautiful excursions on Elba Island.