Seccione beach
Seccione beach Tourist information
Sandy and gravelly beach within the Municipality of Portoferraio
Features of Seccione beach
Length: 200 meters - Average width: 8 m
Exposed to: winds from Southwest to Northeast - Sheltered to: Southern winds
GD: 42.81869 - 10.296845
GMS Latitude: 42 ° 49'7.284''N - Longitude: 10 ° 17'48.641''E

---
Description of Seccione Beach
The beach of Seccione is located on the northern coast of Elba a short distance from the village of Portoferraio. There are no services on this wild beach, which has a beautiful pristine sea that offers stunning transparencies especially during the days with sirocco. The small shore is characterized by fine sand mixed with white pebbles of small to medium-sized. The coastline around is beautiful and suitable for snorkeling.
Access to Seccione beach
To reach the beach you have to take the road that from Portoferraio leads to Enfola. About 500 meters after the junction to Albereto you can park the car in a large square and walk along a not marked road until you reach the beach.
Amenities available on this beach
| | | | | | |
| --- | --- | --- | --- | --- | --- |
| | Beach sand mixed with gravel | | Free beach | | Limited Parking |
| | Snorkeling | | Unfrequented | | |
Elbaworld suggests
Discover places and attractions nearby.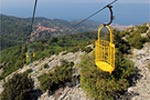 Discover incredibly beautiful excursions on Elba Island.