Le Sprizze, town
of the municipality Marciana Marina
Le Sprizze Tourist information
Le Sprizze is one of the few locations within the Municipality of Marciana Marina. The location is directly by the sea along the provincial road which leads from Procchio to Marciana Marina after Paolina beach and Redinoce beach. Le Sprizze is mainly a residential area with few apartments for rent where to spend peaceful holidays.
By taking a small walking path which faces the sea from the provincial road it is possible to reach a small beach and the cliffs of this wild stretch of coast. The beach is not so much crowded even during the high season and it is composed by dark medium size pebbles. In front of the small bay there is a wonderful view over Golfo del Viticcio (Gulf of Viticcio) which extends from Capo Enfola until the promontory of Guardiola.
To get to the beach it is necessary to park the car along the provincial road.
Beaches close to Le Sprizze
The natural beach of Le Sprizze is basically uncontaminated and wild. Closeby you can reach the beach of Redinoce and the beach Il Bagno, as well as Spartaia, Paolina and Procchio beaches. While on the other side of the coast facing Marciana Marina it is possible to get to the small beaches of Crocetta and Fenicia in Marciana Marina.
Elbaworld suggests
Discover places and attractions nearby.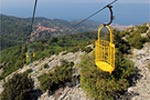 Discover incredibly beautiful excursions on Elba Island.