Press
Here are some reporting about our work products by the national and local newspapers, which we have accumulated over the years. We are working hard to let the world know about the island of Elba and to show all their beauty and to improve their image through various communication channels.
The products of Elbaworld take their place at various tourism fairs
Fairs - Date: Monday, February 13, 2012
Elbaworld presents its products this year. The magazine Elba Gusto and the Map of Elba proved to be a useful tool at the Tourism Fair in Geneva, Zurich and Munich.
Elba as Ibiza, at least in Cavoli
Sector - Date: Monday, May 30, 2011
Elba as Ibiza, at least in Cavoli. This impression is obtained on leaf through the calendar of this year's events. Experience the most famous beach of Elba with music rhythms on the famous parties "on the beach".
Campo nell'Elba presents "il Campese" of Bonini and Elbaworld
Sector - Date: Thursday, January 20, 2011
The municipality of Campo nell'Elba presents "il Campese", a magazine on a quarterly basis for the parishioners, which provides information about the events occurred in, reports on investments and public works, and the news about the various economic and administrative areas in the policy and management of Municipal administration.
Elbaworld presents the magazine Elba Gusto
Industry - date Monday, May 31, 2010
The first magazine about the gastronomy and the traditions of Elba, with recipes, events calendar, and a selection of some of the best restaurants on the island of Elba.
Elbaworld on Striscia la Notizia
Some Elbaworld images were seen on Striscia la Notizia - Date: Friday, February 12, 2010
Satirical la Notizia, on Channel 5 has shown some pictures of Elbaworld.
Elba 50s on elbaworld.com
Tourism - Date: Tuesday, May 26, 2009
Elba, according to survey beautiful but impossible in price / performance
Tourism - Date: Thursday, March 9, 2006
First Tourism Survey inline
Tourism - Date: Tuesday, January 17, 2006
The web award Elba, queen of the search engines
Tourism - Date: Saturday, November 19, 2005
Elbaworld suggests
Discover places and attractions nearby.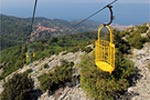 Discover incredibly beautiful excursions on Elba Island.