Shopping at Elba
When you are on vacation, you should relax away from the everyday working and frenetic rhythms. You have the possibility to go shopping that is definitely always a nice thing to do when you are on vacation. Visiting the various villages of the Elba Island, characterized by its small and typical shops along the hilly little streets or on the seafront in the coastal resorts, you will have the opportunity to discover the typical local crafts, original souvenirs stands and small antique and minerals shops.
Another event you have not to lose, are the weekly markets of the Elba Island, which in rotation in the morning are present in almost all the major centres of the island. They are composed of clothing stands, food and household products; it takes place on a weekly rotation and fixed days in certain villages of the Elbe, during all the year. The most important ones, for the largest concentration of stands and items are Marina di Campo market, which takes place on Wednesday in Piazza dei Granatieri, Portoferraio on Friday near the Coop, Porto Azzurro on Thursday and the Marciana Marina market, which takes place on Tuesday mornings. During summer evenings, the presence in the major centres of summer evening markets is very characteristic, and offer mainly local handicrafts and there you can find nice items to give to friends as a souvenir of your stay on the Elba Island.
If you are looking for a unique product Made in Elba, you must enter into one of the shops of Acqua dell'Elba Elba a successful company that has been able to realize an original idea of quality products primarily its perfumes. Another valuable brand of Elba famous in the world is ì Locman with its headquarters in Marina di Campo on the port area where there is also an ideal showroom to buy a nice watch.
The markets of Elba Island take place in the morning in the central squares of the various villages in prearranged days in the week.
Elbaworld suggests
Discover places and attractions nearby.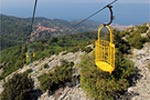 Discover incredibly beautiful excursions on Elba Island.