Out of season holiday
The Island is even more beautiful to be visited out of season, when there are few tourists and you have the possibility to discover every part of it with care and tranquillity. In the low season or during the winter season, Elba is wonderfoul to enjoy fantastic panoramic walkings, or for those who loves the mediterranean scrub to pick up mushrooms and chestnuts, or for the hunter and fishing's amateurs. It is an ideal destination for an out of season holiday, for example during one of its events such as the nativity scene at Christmas time, the graves party in autumn and the donkey's palio during spring time. Below you can find a list of tourist accomodations available for an out of season holiday.
Online availability request
Elbaworld suggests
Discover places and attractions nearby.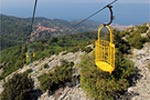 Discover incredibly beautiful excursions on Elba Island.