Car Rent
To rent a car in Elba Island, just fill the fields below and the system will automatically calculate availability and price rental.
---
You can book a rental car directly online with Elbaworld; the system will search the desired vehicle according to the filled fields, being it a car, a scooter, a bike or a mountain bike. You can even get some great offers and convenient rates when renting a car.

Book now your car for your holiday in Elba Island. There are different types of car you can rent, from a subcompact car to a sports car and a convertible one which is ideal to go to the beach, but also family cars and minivans. For those arriving to the island by airplane, there will be the chance to rent a car directly from the airport. There are different rental solutions ranging from a 24h daily to a weekly rental which is usually more convenient.
By renting a car you will be able to move comfortably even in cases where the weather is less favorable and reach any tourist location in Elba given that the island is seemingly small.
Instead, by renting a scooter you will be more free to move between the traffic, avoid parking problems and reach the renowned and crowded beaches of Fetovaia, Cavoli and Seccheto which are seaside location famous for their beautiful bays and sandy beaches.
It is also possible to rent special vehicles such as Quad for fun outgoing experiences with friends maybe towards San Piero and Sant'Ilario, the charming little villages sheltered on the slopes of Mount Perone and characterized by many dirt paths and panoramic trails since roman times.

In addition to cars, scooters and other vehicles by land, it is also possible to rent mountain bikes, e-bikes and bicycles for tourist for nice excursions and walks.
For those who wish to discover the beauty of the sea, it will be able to rent a motorboat or a dinghy. There are several possibilities in terms of motor boats, ranging from sizes to genre, to be rented on the various beaches and ports in Elba. Renting a boat represents surely a great chance to reach all those beaches that are not accessible by land as well as the nearby islands of the Tuscan Archipelago.
Book a motocycle or a scooter on line at Elba Island
Elbaworld suggests
Discover places and attractions nearby.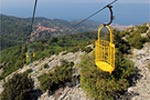 Discover incredibly beautiful excursions on Elba Island.