Wellness holiday
Immerse in this Island, you can get a great mind wellness to find again personal balance and escape from the frenetic work and urban rhythm thanks to the peace of this island, especially out of the peak season. You can discover yourself, your balance, and find the peace and the wellness you need. Walking in the nature and breathing the air coming from the sea you can feel the positive energy of Mother Nature. Moreover, there are a lot of spa where you can spend your holiday: the island is full of beauty centres situated mainly in San Giovanni a Porteferraio.
Select all
Hotels
a Marina di Campo
Lungomare Nomellini, 11 - 57034 Campo nell'Elba
Hotels
a Fetovaia
Via Fetovaia, 115 - 57034 Campo nell'Elba
Online availability request
Elbaworld suggests
Discover places and attractions nearby.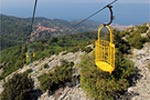 Discover incredibly beautiful excursions on Elba Island.