Where to sleep in Elba
It will be very easy to find an accommodation in Elba Island as there are many tourist structures, many of which can be consulted on this tourist web portal.
It is anyway recommended to book your holiday in Elba in advance, especially if you wish to visit it during the summer season when demands are very high and you may not find the accommodation that best suits your needs. Tourism has in fact represented the main aspect of the Elban economy for over fifty years; it developed both in terms of quantity and quality , offering a wide range of possibilities for any type of tourist demands.
In Elba Island it is possible to stay in Campsites, or in one of the many hotels scattered around the island; these are available in many categories, from two stars hotel often run by families to five stars hotel offering many services and attentions to the most demanding tourist.
In Elba you can in fact find five stars luxury hotels as well as more modest ones, or even Bed & Breakfast. In addition there are numerous Residences, apartment or house for rent to be booked both via agency or directly by privates.
Each area of the Island has its unique charm, from the white calcareous beaches in Portoferraio, to the red land in Rio Marina with its beautiful minerals deeped into crystal clear water; up until the area of Marciana characterized by granite and dominated by Mount Capanne which offers beautiful and lush landscapes as well as high cliffs overlooking the sea.
You will be able to find different and unique types of accommodations in any of these areas.
You just have to choose in which part of the island you wish to book your holiday.
Elbaworld suggests
Discover places and attractions nearby.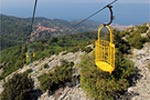 Discover incredibly beautiful excursions on Elba Island.