Barbarossa, town
of the municipality Porto Azzurro
Barbarossa Tourist information
Barbarossa is a tourist location in the municipality of Porto Azzurro which is about 1.5 km away; it can be reached through a panoramic path that crosses the village and goes from Forte Spagnolo di San Giacomo up to Barbarossa.
This location is easy to get to by car following the main road which leads from Porto Azzurro to Rio nell'Elba and Rio Marina. Behind the beach the flat area hosts accommodations such as campsites, residences, hotels and apartments for rent where you can spend your holidays. Near the beach there are also bars and restaurants.
The resort of Barbarossa is characterized by a beautiful green bay and by a beach of fine gravels mixed with sand that stretches for about 150 metres.
The name of this area seems to come from the fierce pirate Khayr al-Din, known as Barbarossa who landed on this beach and then attacked the nearby locations.
Beaches close to Barbarossa
Barbarossa is one of the most appreciated resort by tourists in the town of Porto Azzurro, in fact the beach is well equipped, in part free to access and in part occupied by a beach club which provides services such as sunbeds, umbrellas , cabins and paddle boats rental.
The beach of Barbarossa so as the whole stretch of coastline is also ideal for diving. Nearby there are also the beautiful beaches of Reale and Terranera.
Sandy and gravelly beach nearby Porto Azzurro.
Features: ideal for children and divers.
Beach nearby Porto Azzurro.
Features: ideal for snorkeling.
Wild sandy beach close to Porto Azzurro.
Features: brilliant black sand.
Elbaworld suggests
Discover places and attractions nearby.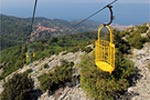 Discover incredibly beautiful excursions on Elba Island.