National Park

Elba Island, with its territory and the surrounding sea is at the heart of the
Tuscan Archipelago National Park
, established in 1996 by the Ministry of Environment. Today the Tuscan Archipelago National Park is the biggest
marine park in Europe
and protects a marine area of over 600 km2 kilometres located between Livorno and the Argentario Promontory. It also comprises 17,887 hectares of land divided among the seven
islands of the Archipelago
: Elba , Pianosa , Capraia Giannutri , Giglio , Gorgona and Montecristo , in addition to Formiche di Grosseto and other smaller rocks. These seven islands are beautiful like pearls; an ancient legend in fact, tells that seven pearls, once belonging to the goddess of love Aphrodite, came up from the sea after she had lost her necklaces in the clear waters of the Mediterranean.
The largest island of the Tuscan Archipelago is Elba with a surface of ​​223.5 km2 while the smaller one is the island of Gorgona with a surface of 2.23 km2 . Despite their modest size, the islands offer many different incredible landscapes: from the compounded and variegated Elba, the flat island of Pianosa to rocky mountain of Monte Cristo .

Along the coasts which have been carved by the weather and by the sea there are caves and cliffs that alternate with different types of beaches mainly characterized by sand or gravels. The scenery offers suggestive coves that are only accessible by sea and protected by the wild nature which blooms during spring and covers the rocks with flowers. In addition, cliffs and towers recall the millenary presence of man .
The landscapes and the morphology of the islands are the result of their geological origin: Montecristo and Gorgona are completely made of granite, Giglio and Elba are characterized by granite and sedimentary rocks ( limestone and marl ), Giannutri and Pianosa are made of limestone cliffs, while Capraia is composed by magmatic intrusive and effusive rocks.

Like pearls on a necklace, each island is different from one another. Each island preserves its historical evidences, each island is unique and original and shares with the others one common aspect: the beauty of its nature and the chain that unites these jewels, the sea. A sea that has seen vessels from every age: from the Etruscans to the Greeks , from the Romans to the Saracens , from those of Pisa to the Spanish ones . Later on came the French, the English and the Germans , getting faster and more modern boats, up to the current ferries take you from Piombino to Elba in about one hour of navigation .
---
Useful Info:
Tuscan Archipelago National Park
Portoferraio - Località Enfola
Tel.0565.919411 - Fax 0565.913350 - sito internet: www.islepark.gov.it
The Tuscan Archipelago consists of 7 beautiful islands that have preserved their natural landscapes through the centuries.
The Cetacean Sanctuary is an important protected marine area that stretches for 90,000 km2 and is intended to protect the cetaceans swimming in these waters.

Established by the National Park within an environment unique for its biodiversity nearby Mount Capanne.
Laws that regulate the Tuscan Archipelago National Park.


The Tuscan Archipelago National Park also includes the mining districts of East Elba, where today is possible to take guided tours and visit the Museums.

Elbaworld suggests
Discover places and attractions nearby.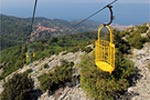 Discover incredibly beautiful excursions on Elba Island.