Elba Cousine
Elba Island in addition to his undoubted natural sights also offers a cousine of Mediterranean flavours that will remain in your heart. Dishes are generally simple and, for this reason, genuine and fragrant about that authenticity that characterizes our territory.
Among these, there are obviously those of the sea, and it is important to mention the Cacciucco all'Elbana, the stockfish with potatoes, or "Muscoli" sauce (mussels), fried picarel and Spider crabs (Granseole) with which the elbans usually prepare delicious first courses with spaghetti or other pasta.
Typical desserts are also simple and delicious, like the famous Schiaccia Briaca made with the Elban Aleatico or Schiacciunta, Sportella, Strufoli, Frangette and the popular Castagnaccio.
You will notice that depending on where you will decide to go, the flavors will change: more fish in the coast and more natural products in towns, providing a wide range of gastronomic choice always surprising and obviously sincere and genuine.
You will be amazed at both the quantity and the quality of restaurants almost all over Elba, often directly overlooking the sea, giving you not only good meals but also an unforgettable background for your family dinners or romantic ones in front of extraordinary sunsets.
Elbaworld suggests
Discover places and attractions nearby.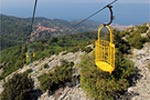 Discover incredibly beautiful excursions on Elba Island.