Apartments Seccheto
Send now a non-binding inquiry for your holiday in a apartment in Seccheto.
Seccheto offers the possibility to stay in different types of apartments, ideal for couples and families. Among the apartments for rent in Seccheto you will find studios, but also two-room apartments, three-room apartments, holiday homes and villas. Almost all rental apartments in Seccheto are in a good location near the town center and the beautiful sandy beach. Due to the shape of the village, most of the apartments also offer a beautiful panoramic view of the sea.
Island of Elba
Campo nell'Elba
Rio
Capoliveri
Marciana
Portoferraio
Porto Azzurro
Marciana Marina
Apartments a Seccheto
Via Vallebuia, 4 - 57034 Campo nell'Elba
Tel. +39 335 7066716
Apartments a Seccheto
Loc.  Seccheto - 57034 Campo nell'Elba
Tel. + 334 8400695
Online availability request
Get the best offer to stay in an apartment in Seccheto and take advantage of the last minute offers!
The vacation apartments in Seccheto are mainly managed by local families who do their best to ensure you have a pleasant holiday in Seccheto. Seccheto is a renowned seaside resort on the Costa del Sole, which is very much appreciated by tourists. In some apartments of Seccheto you will find the ideal solution for your relaxing vacation.
The village of Seccheto is within easy walking distance. So make sure the apartments are in a convenient location so that you can walk to both the center of the small village and the beach in less than five minutes. In Seccheto you can also book your holiday in an apartment out of season, for example in spring or autumn, and discover the wonderful coastal paths for hiking. Hike the ancient paths that were once used by farmers with their donkeys and practice outdoor sports such as trekking, mountain biking and climbing thanks to the equipped rock faces between Seccheto and Fetovaia.
Elbaworld suggests
Discover places and attractions nearby.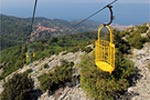 Discover incredibly beautiful excursions on Elba Island.