Pebbly beaches
Pebbly beaches in Elba Island are characterized by an incredible crystal clear sea and are ideal for snorkeling, underwater fishing and diving; here flora and fauna of Elba are particularly lush. Most part of pebbly beaches are located on the northern coast of Elba, in particular along the stretch of coast leading from Portoferraio to Enfola, where there are many beaches mainly characterized by beautiful white pebbles. Here you will find the beaches of Ghiaie, Capo Bianco, Sottobomba and Sansone and other minor ones.
Other pebbly beaches are to be found in the stretch of coast leading from Procchio to Marciana Marina, such as the beaches of Le Sprizze, Il Bagno, La Crocetta and the very frequented beach of La Fenicia.
Some beaches are characterized by medium-large sized pebbles, while others have small pebbles mixed with multi colored stones. If you wish to visit pebbly beaches on the western coast we suggest some that have granite origin such as Pomonte, Chiessi, Patresi, Le Tombe and Colle Palombaia.
Elbaworld suggests
Discover places and attractions nearby.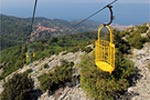 Discover incredibly beautiful excursions on Elba Island.