Geography of Elba
Elba Island is located in the well known Tuscan region, in the province of Livorno and it belongs to the Tuscan Archipelago together with six other islands, of which Elba is the greatest one.
Coordinates: (42°45′46″N 10°14′22″E)
It is the third largest island following Sicily and Sardinia with a length of 27 km and a maximum width of 18 km. Even though the dimensions are small, do not be fooled: because of its morphology and natural environments enclosed within a surface of 223 squares kilometres, a week will not be enough to see it all.
It is rich in promontories composed by mountains and valleys and its major plain areas are located between Procchio and Marina di Campo where the airport of Elba is located; then there is also the plain of Mola located below the hill of Capoliveri.
The western side is dominated by the granodiorite dorsal of the Mount Capanne with its 1019 metres below sea level, which got formed 11 million years ago. On this side of the island you will discover Costa del Sole, a beautiful stretch of coastline among the most stunning ones in Italy and very much frequented by tourists. Costa del Sole stretches from the location Colle Palombaia along the south-western coast of Elba for about 10 km until the location of Colle d'Orano in the municipality of Marciana.
The eastern side of Elba is the most ancient part of the island dating back to 400 million years ago. It is mainly a hilly area where are also found the famous iron deposits of Elba. This is the mining area of Elba studied by geologists from all over the world.
Elba is administratively divided into 8 municipalities within which are located different villages and beach resorts. The largest municipality is the one of Campo nell'Elba as it also includes a part of Pianosa. Following, we find Marciana where Mount Capanne is located; this can be reached via cable car. While Marciana Marina is the third smallest municipality of Italy.
Right in the middle, on the northern side of the island there is Portoferraio, holding the main port of Elba where everyday connects to Piombino through its many ferry travels carrying many tourists. This is also one of the few natural ports in the world offering a safe shelter to boats. On the eastern side there are the municipalities of Porto azzurro, Rio Marina, Rio nell'Elba and Capoliveri.
---
Before coming to Elba for your holiday we suggest you to download our map of Elba, that you will be able to collect for free in one of the many info points on the island. The map is well detailed thanks to a clear key. You will in fact find main roads, hiking trails, diving points, the beaches of Elba divided by characteristics and typology as well as the distances between the villages.
The Tuscan Archipelago consists of 7 beautiful islands that have preserved their natural landscapes through the centuries.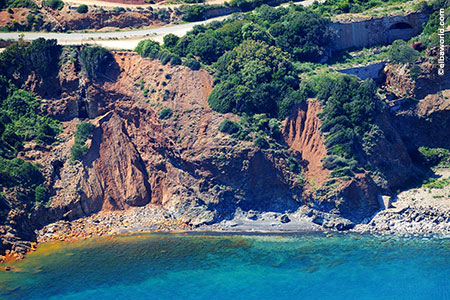 Coastline rich of open air minerals between Rio Marina and Cavo.
Ten kilometres of panoramic coast enclosing wonderful beaches and famous tourist locations of Elba
Five kilometres of unspoiled coast ideal for a relaxing holiday.
Mount Capanne is the summit of Elba Island and of all the Tuscan Archipelago with its 1,019 meters.
News/curiosities and information on Scoglietto's underwater pathway at Porteferraio

--INRO--

Lo Scoglietto is a little island, on which there is a lighthouse and is located in front of the Ghiaie beaches just outside the Portoferraio's harbou...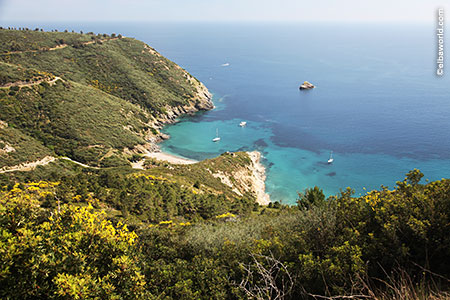 Wild and unspoiled coast characterized by bays, lands rich of iron and old mining deposits.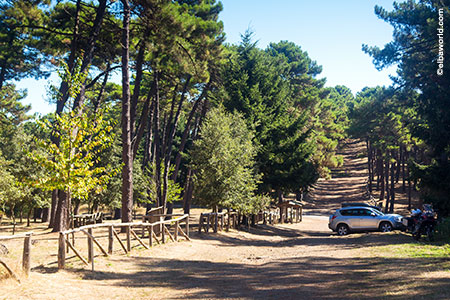 Mountain shaded and equipped for picnics, from which it is possible to enjoy a beautiful view of Elba.
Characterized by a wild area and by the presence of mineral deposits as well as mining plants now disused.
The pond of mineral origin is located near Porto Azzurro, and offers a unique and charming bright black beach.



Elbaworld suggests
Discover places and attractions nearby.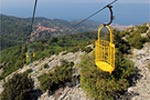 Discover incredibly beautiful excursions on Elba Island.