Sansone beach
Sansone beach Tourist information
Pebbly beach within the Municipality of Portoferraio
Features of Sansone beach
:
Length
: 240 meters -
Average width
: 10 m
Exposed to
: winds from Southwest to Northwest -
Sheltered to
: Southeastern winds
GD
: 42.822861 - 10.280655
GMS Latitude
: 42 ° 49'22.298''N -
Longitude
: 10 ° 16'50.358''E

---
Description of Sansone beach
The beach of Sansone is considered one of the most beautiful beaches of Elba Island. It is located on the Northern Coast near Portoferraio, from which village it is about 4 km away. Sansone looks wild and it has almost no services, except for a beach rental of umbrellas, sunbeds and paddle boats.
The shore is characterized by white pebbles and gravels, while on the right of it you can glimpse a rock, which inside has a small cave. Sansone is a very popular snorkeling and diving spot, where the water is wonderful especially in the days of south wind, leaving you literally open-mouthed.
Access to Sansone Beach
From Portoferraio, you can reach the beach of Sansone, driving along the signposted road for about 4 km, following the signs towards Enfola and Viticcio. Next to a restaurant, turn right downhill a paved road until you reach the parking lot. Once parked, walk about 150 meters along a path between the houses and then take a narrow rocky path bordered by a wall with a wire fence.
Close to the Sorgente Bar, continue through a series of steps after the Campsite, and then walk along a scenic path that opens onto the beach of Sansone.
Amenities available on this beach
| | | | | | |
| --- | --- | --- | --- | --- | --- |
| | Equipped beach | | Free beach | | Pebble beach |
| | Snorkeling | | Suitable for Children | | Visited medium |
Elbaworld suggests
Discover places and attractions nearby.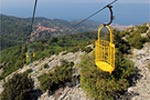 Discover incredibly beautiful excursions on Elba Island.