Elba Airport
The airport of Elba Island is located in La Pila, 2 km from the famous resort of Marina di Campo away (municipality: Campo dell'Elba).
The Airport Elba (EBA) "Teseo Tesei" is an airport that offers some scheduled flights during the season with it connect to several European cities.
• From Italy, it is possible: direct flights from Pisa (PSA - Galileo Galilei airport), Florence (FLR - Peretola) and Milan (MLN - Linate) to reach the Island of Elba.
• From Switzerland, it is possible: direct flights from Lugano (LUG Lugano Airport) to reach the Island of Elba.
The major airlines is Silver Air
---
Historical informations on the airport of Elba: the Airport has emerged thanks to the work of a German industrialist, who bought a large land area from farmers in 1963 on the plain of La Pila. With the intention to make a textile factory with direct airline to work on site directly with other industries in this area. The originally runway consisting of grass and dirt was approximately 750 meters long. Later this project was abandoned and in 1966 the entire territory was bought by Transair, which inaugurated the first flight from Elba within one year. In the 90s, the runway was extended and paved. Today it connects the island of Elba with the major national and international airports with scheduled flights in the season.
La Pila – Airport Specifications
Coordinates: 42 ° 45.71 'N 10 ° 14:45' E. - Code ICAO: LIRJ. - Classification: 1C
Location near the village: 1 NN Marina di Campo. - Local government: Campo nell'Elba.
Location: La Pila. - Runs: 1 - Orientation: 16/34. - Dimension: length 949 m - width 23 m.
Height: 8 meters above sea level - basic: Asphalt. - Activity days: always. - Radio frequencies: 123.7 Mhz AFIS.
Radio Help: VORTAC / NDB "ELB" (7NM DME RDL287) - Telephone number: A / D Office 0565/976011 - fax: 0565/976008.
Management Company: Alatoscana S.p.A. Via Aeroporto, Loc. La Pila, 57034 Campo nell'Elba (LI).
Specific information to the Airport of La Pila
Obstacles: Mountains in north - practicality: summer 8:00 to 20:00. - Landing request: yes.
Rules: departure by RWY34 and landing by 16 following proposed route in AIP Italy.
Conditions for ULM: Traffic not allowed
TIME TABLE SILVER AIR
| | | | | |
| --- | --- | --- | --- | --- |
| Domenica/Sunday | nr volo | dep | arr | tempo di volo |
| Lugano- Elba | 802 | 10:30 | 12:00 | 1h30' |
| Elba - Lugano | 801 | 12:40 | 14:10 | 1h30' |
Elbaworld suggests
Discover places and attractions nearby.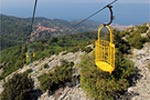 Discover incredibly beautiful excursions on Elba Island.