Beaches for young people
Almost all the beaches in Elba are suitable for young people, because each one is different and offers its unique charm. However, in this category we include only those beaches which are mainly frequented by young people which are then more indicated to catch up and make new friends.
Some beaches in the Island of Elba organize beach parties during summer with disco music and gigs which attract the young crowd from all over the island. Among these beaches we indicate Cavoli as the most suitable for young people.
Other beaches frequented by young people are Lacona, Marina di Campo especially on the side of La Foce, Lido di Capoliveri and Biodola.
Elbaworld suggests
Discover places and attractions nearby.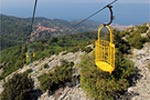 Discover incredibly beautiful excursions on Elba Island.