Seaside holiday
Elba is an important seaside resort with over 100 beaches and 157 km of coast. Along this coast, you can find a variety of beaches with a granitic golden-sand on the west side and a white gravel on the north side, near the Viticcio peninsula. In the mining side between Porto Azzurro and Rio Marina, many beaches get their color from the local minerals. An example is Terranera beach, where there is a black shining sand due to the local hematite vein. If you prefer cliffs, you should go to the wonderful beaches in Cavoli and Fetovaia, or to the famous smooth granitic beach in Sant'Andrea.
The biggest beaches at Elba island have both free access zones and beach resort zones. Visit our page about the Elba's beaches for more information and to find the one that suites you best.
Online availability request
Elbaworld suggests
Discover places and attractions nearby.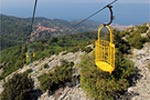 Discover incredibly beautiful excursions on Elba Island.