Art and Handicraft
Elba has always been loved by artists, poets, writers and sportsmen. Some known personalities were born on Elba and many others are somehow connected to this wonderful island. Some of them even enjoyed to stay there and in many cases, after a short visit, famous personalities ended up buying a house, making Elba their ideal place to work and find the peace and concentration the artists need.
Many people, in history, connected their names to Elba, such as Raffaello Foresi, Pietro Gori, Giuseppe Pietri, Renato Cioni, Luigi Berti, Raffaele Brignetti, Hervé Guibert, Oreste del Buono, Gaspare Barbiellini Amidei, Dullio Brignetti, Bruno Rossi, Nicola Trussardi, Jacques Mayol, José Antonio Abreu, and Giorgio Faletti among others.
The art of creating has always been a distinguishing feature of the island, for instance the fish traps made by the fishermen's craftsmanship with canes and the fishing pots made with chestnut tree's filaments, one of the most ancient arts on Elba. The local farmers were able to create small and big baskets, used in the everyday life. The gerle (conical wicker baskets) to carry wood, pots for the vegetable garden, for the olives, mushrooms and grapes. Creating many types of baskets in different shapes was one of the farmers' activities. In the Western side of the island, they used chestnut tree as raw material, whereas in the Eastern one they used fraxinus ornus. Nowadays it is very difficult to find someone who is able to braid filaments with such a craftsmanship. As a matter of fact, day by day this activity turned into a hobby.
Walking on Elba, you just need to look at one of the many shop windows in the streets of the main towns to see interesting local handicraft items put on display. Porcelain and terracotta objects, rag dolls, precious gems, minerals, leather and cloth items, paintings and many other typical local handicraft. During the last years, many artisans have been organizing several ethical community-supported initiatives, such as the exposition and sale of handmade items with the aim to finance the construction of wells in Central Africa, to give water to those in need of it.
Luca Polesi was born in San Piero, a small town in Campo nell'Elba Commun, on Elba Island, on the 18th January 1963 and since he was young, he used to stand out because of his artistic talent.
Italo Bolano was born in Portoferraio, on Elba Island, in 1936. Since he was 13 years old, his first paintings have been revealing a dramatic personality, shown through a figurative Expressionism.
Adriana Martorella is from Elba Island and makes use of an ancient technique called "encaustic painting" to depict everyday life scenes, set at the end of XIX century.
Nevio Leoni is an appreciated painter from Elba and Alessio Sozzi's scholar; in his Mediterranean atmosphere works, he depicts the place he lives in.
Elbaworld suggests
Discover places and attractions nearby.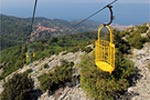 Discover incredibly beautiful excursions on Elba Island.