Excursions and activities
There are many possibilities to do journeys at Elba, ideal for groups, school trips and organized tours, but also for tourists who love an active holiday and for those people who want to discover more fascinating sides of the island.
Elba is in fact not only beaches and sea, but it has a hinterland to discover such as the ancient villages and the different traces of the many populations who have took place in the history. An island inhabited in ancient past even at the time of the fire and iron, important for the Etruscans, and often plundered by pirates and barbarians, land rich in granite and good wine for the Romans, the stronghold and the control point on the Tyrrhenian Sea for Pisa, Ligurian and Spanish people. The island of Napoleon Bonaparte who during his exile, built there two beautiful villas is now designated as museum and at second position for sightseeing in Tuscany only after the Uffizi in Florence.
An island that offers many possibilities to do journeys, from the natural attractions with organized tours that take place both by land and by sea, to the discovery of places of worship, museums and watchtowers. Let yourself be enchanted from an island to discover and to love.
losgelassen.
Places of worship, churches, parish churches, ancient hermitages are spread in all the Elba island.


Elba is an island rich in history, so there are many museums with interesting testimonies of the past.
A different excursion every day, so that you will never get bored during the holiday at the Elba Island.

With a board trip, you will be able to admire the coast and the charming that the island release through its coves, beaches and coasts from the sea.
Elba island is a well known tourist destination for outdoor sports lovers who are looking for an active holiday.


Elba has many monuments which are important testimonies of the ancient history.
Elba is crossed by hundred of paths and old mule tracks today revalue and partially reopened for being able to practice excursionist activities to open air.


Elbaworld suggests
Discover places and attractions nearby.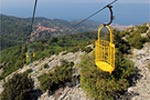 Discover incredibly beautiful excursions on Elba Island.