Equipped Beaches
Equipped beaches are ideal for those tourists who love to be taken care of and to those whom nothing should be missed even at the beach. There are many equipped beaches with beach clubs and rentals offering their tourist and bathing services. In addition to their main services and rentals, many beach clubs also have toilets, cabins, dressing rooms, inflatable shelter, shower facilities and very often a stop area with reserved parking, bar and restaurant.
At the beach you will be able to rent an umbrella with sunbed, or maybe take an excursion with a paddle boat along the coast, rent a boat or a dingy and get further to discover the unspoiled and less frequented caves and visit the wonderful coast of the island of Elba.
Besides, equipped beaches often give you the chance to practice water sports and take windsurf and sailing course. The main equipped beaches in Elba are those most frequented by tourists; these are mostly characterized by sand with wide shores. The major equipped beaches are those of Marina di Campo, Procchio, Lacona and Biodola, but also many other smaller beaches offer major bathing services.
Elbaworld suggests
Discover places and attractions nearby.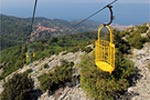 Discover incredibly beautiful excursions on Elba Island.