Transports and Services
Elba is characterized by over 220 km of paved roads and 100 km of dirt roads. Many are the tracks and trails that run across the mountains or along the coast, offering wonderful views. The island is beautiful off-season for mountain biking excursion, trekking and walking among wonderful tourist resorts.
We suggest you to visit Elba by car, scooter or bike during summer (especially if you are traveling alone or in pairs), thus avoiding parking problems even in the most crowded beaches.
The various villages and tourist resorts, are also connected to each other by a bus service line guaranteed by CTT, (Tuscany Transportation Company) with the main station located directly at the harbour of Portoferraio. Some municipalities also offer a beach bus line service in order to meet tourist needs and allow you to visit during the day beaches and coves without having to take your own car.
For those arriving by ferry in Portoferraio without car, it is possible to rent a vehicle, to call a taxi, or take advantage of the transfer service.
The Teseo Tesei Airport on Elba Island (EBA) is located in La Pila
Book easily online the ferry to Elba Island and avoid tedious queue at the port.
Rent directly online a car or an alternative vehicle such as a scooter, a bike or mountain bike, for your holidays in Elba Island.
Elba info about taxi and transfer service with chauffeur.
To visit Elba Island by public transports such as bus is a great alternative.
Elbaworld suggests
Discover places and attractions nearby.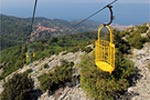 Discover incredibly beautiful excursions on Elba Island.