Where to eat
During your holiday in Elba you have the opportunity to taste genuine local products which through the years have enriched Elba gastronomy.
From fresh fish to seasonal fruits and vegetables, in Elba you can rediscover the ancient flavors of recipes handed down through generations, often re-proposed with a modern twist by quoted chefs. Among the most traditional recipes, there are: Sburrita Riese, Elba Stockfish, Cacciucco as well as the popular appetizers of raw local fish and the Elba recipe of boiled octopus.
The choice among restaurants, taverns and pizzerias where you can have lunch or dinner, is very wide. Below we list a number of restaurants selected by our staff: we had the pleasure to taste their delicious products and see their transformation while enjoying the ambience and service offered.
Elba cuisine offers in her recipes based on simplicity, new and unique flavors absolutely to taste. Creativity and a wise choice of ingredients dominate together with simplicity the recipes of the Elba cuisine, once considered poor, but now re-proposed by Elba chefs with a modern twist.
Among the several restaurants of the island, there are many choices available in the menu and some of them are ancient recipes which require long and complex preparation.
---
If you are in an accommodation where you have your own kitchen, then you can cook some traditional recipes of Elba, some of them proposed in our list of Elba recipes.
On the island you have the opportunity cook traditional disches by purchasing local ingredients ,directly availables from the farmers or in small convenience stores; and if research becomes difficult, get advice from a local resident.
You can buy fish directly from fishermen or fish shops, as it arrives daily fresh in their showcases, delivered by fishermen who come back with their boats early in the morning after a hard work. In addition to barbecues and traditional preparations, you can cook fish following the Elba Cacciucco recipe, using small fishes and old bread; or a sauce of mussels, called "muscoli" (muscles); or more simply a grilled red snapper on your barbecue or make a fried picarels.
Thanks to the fish tourism (Ittiturismo), fresh Fish is directly served to you by fishermen in their homes. If you love fishing and good food, now you can eat by an Ittiturismo and know more about the fishermen job; as from the fishing trips offered by fishing tourism, where fishermen with their boats offer the adventure and the opportunity to experience a day of fishing in Elba to tourists who enjoy fishing, .
Every ingredient that you buy during your stay on Elba, is fresh and local , which you will certainly appreciate. This will make you enjoy your holiday also from a culinary point of view embracing a total immersion in the atmosphere of Elba.
For sweets lovers, the culinary tradition of Elba offers simple things but certainly tasty, like: the famous Schiaccia Briaca, prepared with the Aleatico of Elba, a sweet wine typical of the island; the Schiacciunta, a kind of sweet cake whose origins are very ancient or the Castagnaccio.
Whether you decide to cook yourself or opt for restaurants and taverns, you will not be disappointed with the Elba cuisine, made of extraordinary sun-kissed vegetables with true flavor and fish; not to forget is the goodness of the Elba wines, robust and strong flavored, yet with an intense fragrance of spicy essences characteristics of this beautiful island, including Elba Rosso, Ansonica DOC and those for dessert, such as Moscato and Aleatico.
Taste the goodness of local recipes, while enjoying a dinner in a fish tourism in Elba. Fishermen's fresh fish directly in their homes.
Elbaworld suggests
Discover places and attractions nearby.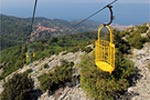 Discover incredibly beautiful excursions on Elba Island.