Island of Elba
Island of Elba Tourist information
The island of Elba is the third largest island in Italy and is one of the islands of the Tuscan archipelago. It can be reached in about an hour by ferry from the port of Piombino or by plane at Marina di Campo airport. The area of the island is very diverse and, thanks to its many facets, offers steep stretches of coast, as well as bays with beautiful sandy or pebble beaches and pristine bays. The island is known all over the world, thanks to its history, it was made famous by Napoleon Bonaparte who was there during his exile. Today Elba is a well-known tourist destination by the sea.
Those who know the island well prefer to visit it in the off-season, when there are few tourists and you can enjoy the island and its wonderful nature to the fullest. Indeed, in springtime, thanks to the variety of flowers that extend to the sea, its beauty is enriched with a thousand colors. The island of Elba offers many hiking trails that can be covered by foot or by bike. A large part of these trails are now mapped and marked with appropriate signs.
If the spring explosion of Elba seduces you into outdoor sports, autumn is also the right time for you to come to Elba. Because in autumn you can not only do good sport, but also enjoy the beach thanks to the mild water temperature. During this time, the island organizes very nice folkloric festivals, which are often associated with the world of food and wine and the seasonal fruits such as mushrooms and chestnuts. Autumn is also the time of harvest in the vineyards and olive groves, preserved thanks to the careful and conscientious work of the excellent and valued wines and the fine extra-virgin oils.
Those who visit Elba Island on vacation are fascinated by its beauty, the richness of its history, the flavors that the island can offer with its centuries-old typical dishes, and thanks to the careful research of many restaurateurs and producers, they are able to to satisfy even the needs of the finest palates.
Elbaworld suggests
Discover places and attractions nearby.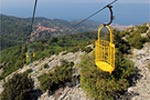 Discover incredibly beautiful excursions on Elba Island.