Network
The network of Elbaworld consists of more than 100 sites, divided into various subject areas. A network in constant evolution, which was created in order to improve the visibility of the companies who get on the online network thanks to personalized advertising campaigns and banner ads, even greater visibility. By offering the Advanced package you can enjoy with your Tourist means the maximum visibility on the tourist portal elbaworld.com and also on the thematic sites in our network.
Elbaworld suggests
Discover places and attractions nearby.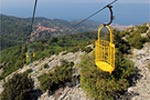 Discover incredibly beautiful excursions on Elba Island.