Useful Informations
We provide some useful informations to guarantee a relaxing and enjoyable holiday on the island of Elba. Advice, recommendations and contacts to spend a more convenient and relaxing vacation on Elba.
Elba Island is a tourist destination that has several info Point you can consult.
It will be very easy to find an accommodation in Elba Island as there are many tourist structures in the island, many of which can be consulted on this tourist web portal.
Elba cuisine offers traditional recipes based on simplicity and enhanced with new and unique flavors absolutely to taste.
Elba is also a great place to have fun at any age.
The season of events on Elba Island is wide, ranging from amateur sports competitions in the disciplines of mountain biking, sailing and rowing with the rowing race from Elba, to the most demanding races valid for regional and Italian champ...
Book easily online the ferry to Elba Island and avoid tedious queue at the port.
Rent directly online a car or an alternative vehicle such as a scooter, a bike or mountain bike, for your holidays in Elba Island.
Elba has over 200 km of paved roads and several tourist resorts. For those who visit the island of Elba for the first time, we recommend a vehicle to get around the Island.
Elba island has a Mediterranean insular climate with mild winters and hot summers with little rainfall.
Some interesting facts about the island of Elba and about the legends of the territory.
Elbaworld suggests
Discover places and attractions nearby.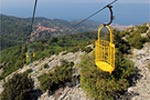 Discover incredibly beautiful excursions on Elba Island.