Sorgente beach
Sorgente beach Tourist information
Pebbly beach within the Municipality of Portoferraio
Features of Sorgente beach:
Length: 80 meters - Average width: 10 m
Exposed to: winds from Southwest to Northeast - Sheltered to: Southern winds
GD: 42.823275 - 10.282353
GMS Latitude: 42 ° 49'23.789''N - Longitude: 10 ° 16'56.47''E

---
Description of Sorgente beach
The beach of Sorgente is located to the right of the popular beach of Sansone, from which it is separated by a short stretch of rocks and reachable by sea when the tide is low tide. Sorgente is a small wild beach located on the Northern Coast of Elba with a white pebbly and gravelly seabed, which enhances the transparency of the sea, especially during the days with sirocco. On the left of the shore, you can see a rock in the sea where there is a small cave, this stretch of coast separates it from Sansone beach. Sorgente is very busy during summer, especially by the guests of the nearby campsite.
Access to the beach of Sorgente
From Portoferraio, you can reach the beach of Sorgente, driving along the road towards Viticcio and Enfola for about 4 km. Next to a restaurant, turn right downhill a paved road until you reach the parking lot. Once parked, walk about 150 meters along a path between the houses and then take a narrow rocky path bordered by a wall with a wire fence. Close to the Sorgente Bar, continue down through a series of steps after the Campsite, until the shore.
Amenities available on this beach
| | | | | | |
| --- | --- | --- | --- | --- | --- |
| | Campsites nearby | | Crowded in the season | | Free beach |
| | Parking | | Pebble beach | | Snorkeling |
Elbaworld suggests
Discover places and attractions nearby.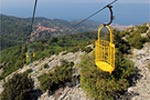 Discover incredibly beautiful excursions on Elba Island.