Holiday with children
Elba Island provides different beaches with low seabeds and different seaside resorts perfect for children.
INTRO
An holiday with children will be great at Elba. The Island is perfect as a destination for children, and many parents choose to spend here their holidays, since it is a small Island suitable for all, where it is easy to find a peace corner also during the high season. The Island is populated from families mainly in June and September when schools are still closed. Families often prefer to spend their Holiday in equipped Residences and rented flats, but the Elba Island also provides family hotels, suggested for families with lunapark, baby sitting service, and sun field. Elba Island is definitely the place where you can spend the holiday with your family.
Online availability request
Elbaworld suggests
Discover places and attractions nearby.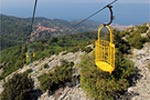 Discover incredibly beautiful excursions on Elba Island.