Hydrography of Elba
Contrary to what is expected,
Elba
is a rich island characterized by many
water springs
, often drinkable. From the highest peaks of Elba Island descend many torrential mountain streams, which hardly exceed the length of 3 km. During summer, when rainfall is minimized and the weather is dry, these streams get smaller, leaving their bed almost dry.
The most significant streams of the Tuscan Archipelago are essentially located in Elba Island and are pretty much all torrential, with modest sized basins and relatively low permeability. Consequently, scrolling times are extremely short which make these Elba's streams particularly subject to sudden floods which can be extremely intense sometimes.
Among the most important and major ditches of Elba Island we recall: the ditch of San Francesco, 6.5 km long, Barione ditch, 5.1 km long and Redinoce ditch, 3 km long.
In the side of the town of Capoliveri the main ditches are: Canubbio, Santa Maria ditch, Pino a Lacona ditch, Valdana ditch, Cavallacce ditch, Pontimento ditch, Fosco ditch nearby Pareti and Morcone and Mola ditch.


In the side of Porto Azzurro we remember Botro ditch; then in the north-western side of Elba the main ditch is the one of Lavacchio; while on the side of Campo nell'Elba and along the south-western coast there are Vallaccia di Pomonte ditch, Alzi ditch, Galea ditch, Valle di Filetto ditch, and that of la Pila.
In the slope of Portoferraio the main water streams are the ditch of the Madonnina, Concia ditch, Bucine ditch and that of Melo; while in Bagnaia there is a ditch called as the village.
At the foot of Mount Capanne, between the villages of Poggio and Marciana, there is a famous spring, the Source Napoleon, already known and appreciated by the Emperor, which is considered today among the best drinkable waters in Italy thanks to its properties and its organic-electric quality. Indeed, this water is free to drink and it is used daily by many people. It is also bottled by a factory holding the same name which also returns the logo of the Tuscan Archipelago National Park on its bottles as a sign of quality and respect for the environment.
Elbaworld suggests
Discover places and attractions nearby.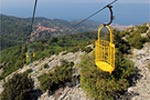 Discover incredibly beautiful excursions on Elba Island.