Advertising
If you want your business intrude on the Tourist Portal of the Island of Elba, Elbaworld.com please contact us via Tel. (+39) 349 7258947 or send an email to portale@elbaworld.com. Alternatively, you can register your company by filling out this form.
It is possible to activate one of the three advertising profiles described below.
Elbaworld suggests
Discover places and attractions nearby.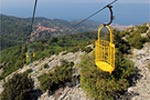 Discover incredibly beautiful excursions on Elba Island.