Holiday with your dog
It is often a problem to go on holiday if you have a dog or another pet, because many facilities does not accept animals. However, Elba is an animal-friendly island and dogs usually are welcome.
Some beaches accept dogs, and many resorts (if you have good behavior) allow you to spend the day with your dog, relaxing under the beach umbrella.
Below you can find the list of the holiday facilities accepting animals, to simplify your search and give you the chance to spend a wonderful holiday with your four- legged friends.
Online availability request
Elbaworld suggests
Discover places and attractions nearby.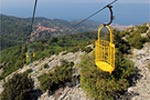 Discover incredibly beautiful excursions on Elba Island.