Interesting facts
The island is connected to an old story telling of folk traditions, of local legends, which arouses curiosity about the events which actually took place.
The history of the Elba flag is connected to Napoleon, who offered the drape to the town of Portoferraio on the day of his arrival in Elba.
The municipality of Campo nell'Elba has an ancient seafaring tradition, because many famous names of the Italian navy were born in this municipality and have grown up here.
Section dedicated to the way Elba was back in the days, with images and articles picturing past episodes that truly happened in Elba.
Curiosity about the legend of the painting of the Virgin Mary Assumption into Heaven located in the sanctuary of Our Lady of Mount (Madonna del Monte)in Marciana.
The mysterious place of the tower has raised during its history many legends and popular beliefs.
The anarchist Giovanni Passannante was locked inside the Linguella Tower, also known as Martello Tower.
Elbaworld suggests
Discover places and attractions nearby.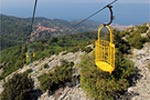 Discover incredibly beautiful excursions on Elba Island.