Redinoce beach
Redinoce beach Tourist information
Pebbly beach in the Municipality of Marciana
Features of Redinoce beach:
Length: 80 meters - Average width: 15 m
Exposed: winds from North to North-East
Sheltered: from Southern winds
GD: 42.789005 - 10.228432
GMS Latitude: 42°47'20.416''N
Longitude: 10°13'42.356''E

---
Description of Redinoce beach
Redinoce beach is located on the Northern Coast in between the village of Procchio and that of Marciana Marina.
The beach was originally all composed by gravels mixed with pebbles, but over the years in a part of the beach, a platform got formed where beautiful fine sand was then brought. This part of the beach is equipped with beach club providing sun beds and umbrellas rental during the summer season. You can also eat something at the bar nearby which provides services, rent a pedal boat and go to one of the nearby beaches and coves of this stretch of coast which is very nice. From the beach you can enjoy a beautiful view over the promontory of Enfola.
Access to Redinoce beach
The beach is located near the better known Paolina beach, and to reach it you have to go towards Marciana Marina, passing through Procchio, for about 3 km. Once overcome Paolina, after a downward slope with a sharp curve you will see on your right a sign indicating the beach of Redinoce. From this point a 200 meters long path shaded by oaks will take you to the beach. The other entrance from the nearby location of Sprizze , also offers parking facilities and is shorter even though less shady .
Amenities available on this beach
| | | | | | |
| --- | --- | --- | --- | --- | --- |
| | Bar | | Beach sand mixed with gravel | | Connected to Bus |
| | Equipped beach | | Floating dock | | Parking |
| | Pebble beach | | Sandy beach | | Snacks |
| | Snorkeling | | Visited medium | | |
Elbaworld suggests
Discover places and attractions nearby.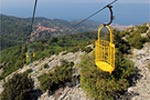 Discover incredibly beautiful excursions on Elba Island.