Fenicia beach
Fenicia beach Tourist information
Beaches of Fenicia and Fenicetta within the Municipality of Marciana Marina
Features of the beaches inMarciana Marina:
Length: 100 meters - Average width: 8 m
Exposed to: Northwest and North winds - Sheltered to: all other winds by Punta del Nasuto
GD: 42.8090097 - 10.1929040
GMS Latitude: 42 ° 48'32.661''N - Longitude: 10 ° 11'35.767''E

---
Description of Fenicia and Fenicetta beaches
Fenicia Beach is located in Marciana Marina at the end of its promenade, on the left of the harbor's Navy Tower. Characterized by large white gravels mixed with dark pebbles, this beach offers many services guaranteed by the beach clubs. One of their private beach has been equipped also with children games and a sandy area, as well as wood platform where you can rent umbrellas and sunbeds. Few meters away, along a short concrete walkway you can reach the tiny cove of Cala della Fenicia, which has a white graveled shore. From here a path leads to the cape of Punta del Teschio, where the bravest locals often perform spectacular dips from a height of about 15 meters. Behind the Navy Tower, opposite to the cliffs, via a footpath you can access some rocks, popular for sunbathing.
Access to the Fenicia beaches
Located at the end of Marciana Marina's promenade, the beach offers two entrances: the first next to a restaurant, while the second is more to the left, from where the path leading to the cove of Cala della Fenicetta begins.
Amenities available on this beach
| | | | | | |
| --- | --- | --- | --- | --- | --- |
| | Apartments nearby | | Bar | | Crowded in the season |
| | Free beach | | Hotels nearby | | Limited Parking |
| | Pebble beach | | Residence near | | Restaurants |
| | Snacks | | Snorkeling | | Watersports |
Elbaworld suggests
Discover places and attractions nearby.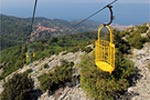 Discover incredibly beautiful excursions on Elba Island.