Sprizze beach
Sprizze beach Tourist information
Pebbly beach in the Municipality of Marciana Marina
Features of Sprizze beach:
Length: 80 meters - Average width: 5 m
Exposed to: winds from Northeast to Northwest
Sheltered to: winds from Southeast to the Southwest
GD: 42.792833 - 10.220399
GMS Latitude: 42 ° 47'34.2''N - Longitude: 10 ° 13'13.473''E

---
Description of Sprizze beach
The beach of Sprizze has a long and narrow shore, shaded especially in the afternoon by the Mediterranean maquis that grows behind it. Its shore consists of dark, almost black, pebbles polished by the sea. The beach appears to be quiet and not very busy. To its right there is a small cliff which hides the nearby beach of Bagno. You won't find any service at the beach.
Access to the beach of Sprizze
The beach of Sprizze, as the one of Bagno, can be reached by land along the road that leads from Procchio to Marciana Marina. Coming from Procchio, first you have to overcome the beaches of Paolina and Redinoce. You can only park along the road, because there isn't any car parking lot. A steep path made with large boulders runs through the vegetation until reaching the beach. Just before getting to the shore you can enjoy a breathtaking panorama that overlooks the Enfola promontory until the beach of Procchio.
Amenities available on this beach
| | | | | | |
| --- | --- | --- | --- | --- | --- |
| | Connected to Bus | | Free beach | | Limited Parking |
| | Not accessible by car | | Pebble beach | | Snorkeling |
| | Unfrequented | | | | |
Elbaworld suggests
Discover places and attractions nearby.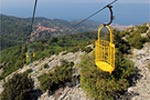 Discover incredibly beautiful excursions on Elba Island.