Rocks of Schioppo
Rocks of Schioppo Tourist information
Cemented cliff close to the Municipality of Marciana Marina
Features of the cliff of Punta Schioppo and Cote Tonda:
Length: 50 meters - Average width: 3 m
Exposed to: North winds
Sheltered to: winds from southern quadrant
GD: 42.801753 - 10.21244
GMS Latitude: 42 ° 48'6.311''N - Longitude: 10 ° 12'44.783''E

---
Description of the cliff of Punta Schioppo and Cote Tonda
Located on the north coast about 1 km away from the village of Marciana Marina, this stretch of coastline is accessible only by sea, because it crosses the private property of the nearby Residence. On the coast, in the past years of exploitation, was built a cement platform over the rocks, ideal for sunbathing. The residence guests are provided with any sort of equipment for comfortable bathing. To the right of the cape Cote Tonda, there are some small beaches unreachable by land, due to some beautiful villas that block the access by land.
Access to the cliffs of Punta Schioppo and Cote Tonda
This stretch of coast is unreachable by land, because it goes through a residence and some villas' properties. The only way to access it is by sea.
Amenities available on this beach
| | | | | | |
| --- | --- | --- | --- | --- | --- |
| | Connected to Bus | | Not accessible by car | | Residence near |
| | Rocks | | Snorkeling | | Unfrequented |
Elbaworld suggests
Discover places and attractions nearby.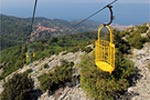 Discover incredibly beautiful excursions on Elba Island.