Paolina beach
Paolina beach Tourist information
Sandy beach mixed with pebbles in the Municipality of Marciana.
Features of Paolina beach:
Length: 90 meters - Average width: 7 m
Exposed: winds from North to North-East
Sheltered: from Southern winds
GD: 42.788061 - 10.232268
GMS Latitude: 42°47'17.021''N
Longitude: 10°13'56.164''E

---
Description of Paolina beach
The beach and its little island are named after the sister of Napoleon , who loved a lot this cove with its beautiful and quiet beach. Paolina beach consists of sand mixed with gravels and it is partly free to access and partly occupied by a bar that also offers bathing services as umbrellas and sunbeds rental.
From the beach you can get to Paolina's islet by swimming as it is just a few meters from the shore . The island looks like a small hill occupied by drums and shrubs typical of the Mediterranean maquis . In front of the small gulf you will appreciate a beautiful view of the Enfola promontory and the Gulf of Viticcio.
Access to Paolina beach
The beach of Paolina is near the beach of Spartaia , along the road from Procchio towards Marciana Marina . It is about 2 km away from Procchio and it is easy to locate it along the way thanks to a signpost.
The car is to be parked in one of the few parkings available and in high season, necessarily along the road . By the signpost starts a footpath with wooden handrail mixed with large steps that will lead you down the beach of Paolina .
Amenities available on this beach
| | | | | | |
| --- | --- | --- | --- | --- | --- |
| | Bar | | Beach sand mixed with gravel | | Equipped beach |
| | Free beach | | Hotels nearby | | Limited Parking |
| | Snacks | | Snorkeling | | Visited medium |
Elbaworld suggests
Discover places and attractions nearby.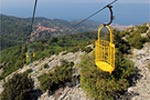 Discover incredibly beautiful excursions on Elba Island.