Bagno beach
Bagno beach Tourist information
Pebbly beach close to Marciana Marina.
Features: small beach shaded in the late afternoon.
Pebbly beach mixed with sand in the Municipality of Marciana Marina
Features the Beach of Bagno
Length: 70 meters - Average width: 5 m
Exposed to: winds from Northeast to Northwest - Sheltered to: winds from Southeast to Southwest
GD: 42.795451 - 10.217088
GMS Latitude: 42 ° 47'43.625''N - Longitude: 10 ° 13'1.516''E

---
Description of the Beach of Bagno
The small beach of Bagno is made of dark small pebbles, polished by the sea and mixed with sand. On the shore you can still see the building of the old tuna trap, which is now into disuse for years. The beach is quiet especially in low season and quite frequented in the summer mainly by locals. The place overlooks the beautiful promontory of Enfola almost until the beach of Procchio. To the left of the beach there are some nice rocks good for sunbathing, while on the east side, you can reach the nearby beach of Sprizze by swimming. There isn't any service at the beach and it is difficult to reach, since it is necessary to park along the provincial road.
Access to the beach of Bagno
The beach of Bagno can be reached along the main road that connects the village of Procchio to Marciana Marina. About halfway on the road you will see a signpost indicating you the quiet beach. Once you found a car park in one of the few places available along the road, you have to step down a short path that will take you to the beach.
Amenities available on this beach
| | | | | | |
| --- | --- | --- | --- | --- | --- |
| | Beach sand mixed with gravel | | Limited Parking | | Snorkeling |
| | Suitable for Children | | Visited medium | | Watersports |
Select all
Apartments a Il Bagno
Loc. Bagno - 57033 Marciana Marina
Online availability request
Elbaworld suggests
Discover places and attractions nearby.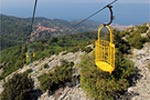 Discover incredibly beautiful excursions on Elba Island.