La Costa Verde
Costa Verde is a stretch of the Northern Coast of the island and it includes the beautiful bays of Viticcio, Enfola and Acquaviva. The name Costa Verde (Green Coast) comes from its particularly lush vegetation and from the transparency of the sea shaded with turquoise colors.

The stretch of coast extending for about 5 km is in the Tuscan Archipelago National Park within the municipality of Portoferraio. A place characterized by an ancient marine and peasant tradition, that are visible still today thanks to some important evidences such as the vineyard terraces and the ancient tuna fishing net (tonnara) which today has become the Tuscan Archipelago National Park headquarter.

This location is ideal for those who are looking for a relaxing holiday and want to restore. Costa Verde offers many options for comfortable accommodation, such as hotels, bed & Breakfast, apartment for rent, villas and campsites.

For the preservation and protection of this stretch of Elba's coast, it has been established the Elba Costa Verde Association intended to insure to its guests the perfect holiday to relax in a natural and unspoiled environment. While the main services of this area such as buoys and slipway are managed by the Amici dell'Enfola Association, which also organizes sports and gastronomic events during the summer season.
Elbaworld suggests
Discover places and attractions nearby.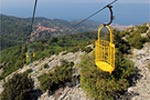 Discover incredibly beautiful excursions on Elba Island.