Mount Calamita
Mount Calamita is famous for its mines, in fact the name derives from the presence of the largest deposit of magnetite in Europe. Located in the town of Capoliveri on the southeastern coast of Elba where dominates Costa dei Gabbiani. The iron from the mines now in disuse, tells us the story of ancient mining activity which was already present in the Etruscan time.
Today the whole area is protected by UNESCO for the variety and quantity of minerals in the area; in fact in addition to magnetite there are also other minerals such as hematite, limonite and pyrite and in Vallone's mining site there is azurite, malachite, the chrysocolla, calcite, aragonite and garnets.
Since mining activity has ended and mines got closed, the whole area has been overpowered by the Mediterranean vegetation which has given to this place a spectacular natural touch; this area is particularly interesting as it still holds the signs of a past strongly linked to intense mining activity, also proven by the presence of old plants now in disuse.
Along the coastline there are many wild beaches reachable almost exclusively by sea. On top of Mount Calamita there is a base, built in 1958 by the Air Force, which has one weather station.
Elbaworld suggests
Discover places and attractions nearby.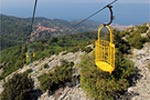 Discover incredibly beautiful excursions on Elba Island.