Pond of Terranera
The
pond of Terranera
is a small stretch of water of mineral origin, located in the municipality of
Porto Azzurro,
to the east of the village in the middle eastern side of Elba.
Its proximity to the sea and to the coast, makes it seem like a common coastal lake, although it was originally formed by filling a mine shaft with sulfurous water mixed with marine waters.
In this area there are still the remnants of old machinery which were used to process the extracted minerals. The surrounding landscape is almost lunar and fascinating: besides being interesting from a geological viewpoint, it is also a unique and wild place dominated by the pond of Terranera and its particular shades of colors ranging from blue to emerald green that alternate according to sun exposure. The pond of Terranera is surrounded by rocks featuring rust- colored stains due to the presence of iron within the minerals and by yellow spots caused by oxides of the limonite mineral.
In the past in this open air mine were extracted hematite, magnesite and pyrite from which iron was then obtained and processed. The residues of these minerals have contributed to the spectacular colors of the landscape, due to the oxidation of iron ore such as limonite, pyrite and hematite that are abundant in this area.
Before reaching the pond of Terranera, you will be in its namesake beach characterized by unusual dark sand due to the strong presence of hematite which sparks beautifully under sunlight.
The pond of Terranera is separated from the sea by this unique and spectacular beach, characterized by an amazing stretch of sand formed by dark grains and mineral dust that shines under sunlight making the landscape particularly sparkling. Since the presence of sulphurous waters, the pond is not accessible for swimming and it is fenced for safety.
HOW TO GET TO THE POND OF TERRANERA
To reach the pond of Terranera it is necessary to take the road that leads from the village of Porto Azzurro to Rio nell'Elba. After 2,5 km from the village of Porto Azzurro turn right following the indications to the beach of Reale- Terranera.
Nearby the beach it is possible to park your car and continue on foot along a path towards north which crosses a small valley characterized by an almost lunar landscape which is very interesting from a geological point of view. After a 5 min walk you will reach the beach of Terranera with the pond of Terranera behind it surrounded by cane thicket.
Elbaworld suggests
Discover places and attractions nearby.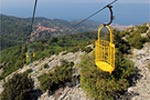 Discover incredibly beautiful excursions on Elba Island.